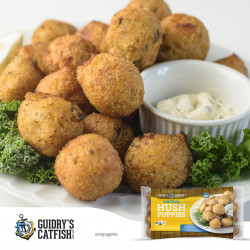 Guidrys Original Flavor Hushpuppies 1lb
Looking for a tasty and unique appetizer for your next gathering? Look no further than Guidrys Original Flavor Hushpuppies! These delicious treats are made with a savory blend of cornmeal, flour, and spices, resulting in a crispy, golden exterior and a soft, fluffy interior. Perfect for dipping in your favorite sauces or enjoying on their own, these hushpuppies are sure to be a hit with your guests.
Guidrys has been a trusted name in southern cooking for over 50 years, and their hushpuppies are no exception. Whether you're hosting a barbecue, a family dinner, or a game day party, these hushpuppies are the perfect addition to any menu. And with a convenient 1lb bag, you'll have plenty to share with your friends and family.
So why wait? Add some southern charm to your next gathering with Guidrys Original Flavor Hushpuppies. Order yours today and discover the delicious taste of the south!
Unit Size: 1lb (Average 26 pieces)
Cooking Instructions:
Deep Fry: For best results, thaw for 30 minutes, deep fry at 325°F. for three minutes.
Bake: For best results, do not thew. Pre-heat oven to 400°F., arrange frozen hushpuppies on baking sheet and place on center rack of oven. Bake for 14 minutes.
Carefully follow thawing and cooking instructions.
Internal temperature should rea 165°F.
Refrigerate leftovers.
This product is frozen