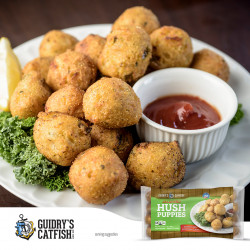 Guidrys Jalapeno Flavor Hushpuppies 1lb
If you're looking for a spicy and flavorful twist on a classic southern dish, then Guidrys Jalapeno Flavor Hushpuppies are the perfect choice. Made with a blend of cornmeal, flour, and jalapeno peppers, these hushpuppies pack a punch of flavor in every bite. The light and crispy exterior gives way to a soft and savory interior, making these hushpuppies a truly irresistible treat. Whether you're looking to add a little heat to your meal or just want a delicious snack, Guidrys Jalapeno Flavor Hushpuppies are sure to satisfy. Order now and enjoy the taste of the south!
Unit Size: 1lb (Average 26 pieces)
Cooking Instructions:
Deep Fry: For best results, thaw for 30 minutes, deep fry at 325°F. for three minutes.
Bake: For best results, do not thew. Pre-heat oven to 400°F., arrange frozen hushpuppies on baking sheet and place on center rack of oven. Bake for 14 minutes.
Carefully follow thawing and cooking instructions.
Internal temperature should rea 165°F.
Refrigerate leftovers.
This product is frozen

Nutrition
Size
1lb
Serving Size
3 Hushpuppies
Calories
120
Total Fat
4.5g
Saturated Fat
0.5g
Trans Fat
0g
Cholesterol
0mg
Sodium
0mg
Total Carbohydrate
18g
Dietary Fiber
1g
Sugars
2g
Protein
2g
Vitamin A
2%
Vitamin C
2%
Calcium
26mg
Iron
0.72 mg