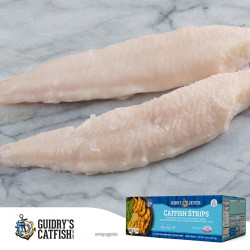 Guidrys Catfish Strips 4lb
For a taste of the south that's sure to please, look no further than Guidrys Catfish Strips. These 4lb of farm-raised catfish strips are the perfect addition to any meal. Whether you're frying them up in a pan, grilling them to perfection, or baking them in the oven, these catfish strips are sure to become a family favorite. With a crisp, golden brown breading and a succulent, flaky fish inside, these catfish strips are a true southern delicacy. Great for any occasion, Guidrys Catfish Strips are a must-have for any seafood lover. Order now and bring a taste of Louisiana to your table.

Guidry's U.S Farm-Raised catfish strips start out as select catfish fillets. We then use special machines and trained individuals to carefully cut the fillets into 1-2 oz. portions. Our strips are made from premium U.S. Farm- Raised catfish which are raised in fresh water ponds and are fed specially formulated grain pellets that float on the top of water giving Guidry's delicious catfish strips a consistently mild and sweet flavor!

Unit Size: 4lb IQF (Each piece average 1-2oz)
To make Guidry's catfish, you will need:
Ingredients:
Guidry's catfish strips
2 cups all-purpose flour
2 teaspoons Cajun seasoning
1 teaspoon garlic powder
1 teaspoon onion powder
1 teaspoon paprika
Salt and pepper, to taste
Vegetable oil, for frying
Instructions:
Preheat your deep fryer or a large pot of oil to 350°F.
In a shallow dish, mix together the flour, Cajun seasoning, garlic powder, onion powder, paprika, salt, and pepper.
Dredge the catfish fillets in the flour mixture, making sure to coat both sides evenly.
Carefully place the coated fillets into the hot oil and fry for about 4-5 minutes, or until the fish is golden brown and crispy.
Remove the fillets from the oil and place them on a paper towel-lined plate to drain any excess oil.
Serve the catfish hot, with your choice of dipping sauce and sides. Enjoy!
This item is frozen