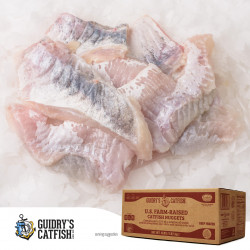 Guidrys Catfish Nuggets 4lb
Looking for a tasty and healthy seafood option that's easy to prepare? Look no further than Guidrys Catfish Nuggets! These delicious nuggets are made from farm raised catfish, ensuring that they are of the highest quality. They are perfect for a quick meal or snack and are a great source of protein and nutrients.
Guidrys Catfish Nuggets are a great option for those who love seafood but don't have the time or energy to spend hours in the kitchen preparing a meal. Simply cook them up in the oven or on the stovetop and enjoy! They are perfect for dipping in your favorite sauces or adding to salads and sandwiches.
So why wait? Add some Guidrys Catfish Nuggets to your cart and enjoy a tasty and healthy seafood option that's easy to prepare and convenient. Trust us, you won't be disappointed!
Guidry's catfish nuggets are low in fat, a great source of protein, and contain Omega-3 fatty acids which can reduce the risk of a heart attack.
Unit Size:
4lb IQF (Average 64 pieces)
Ingredients:
Catfish, Water, Sodium Tripolyphosphate, Salt


To cook Guidrys Catfish Nuggets, you'll need:
4 lbs of Guidrys Catfish Nuggets

1 cup of milk

2 cups of flour

2 tsp of Cajun seasoning

1 tsp of paprika

1 tsp of garlic powder

Vegetable oil for frying
Preheat your fryer or a large pot of oil over medium heat.

In a shallow dish, mix together the milk, flour, Cajun seasoning, paprika, and garlic powder to create a breading mixture.

Dip the catfish nuggets into the breading mixture, making sure they are evenly coated.

Place the breaded nuggets into the hot oil, making sure not to overcrowd the pan.

Cook the nuggets for 4-5 minutes, until they are golden brown and cooked through.

Remove the nuggets from the oil and drain them on a paper towel.

Serve the nuggets hot with your choice of dipping sauce. Enjoy!


Nutrition
Calories
120
Total Fat
6g
Saturated Fat
1.5g
Trans Fat
0g
Cholesterol
55mg
Sodium
260mg
Total Carbohydrate
0g
Dietary Fiber
0g
Sugars
0g
Protein
16g
Calcium
26mg
Potassium
0mg
Ingredients
Catfish, Water, Sodium Tripolyphosphate, Salt