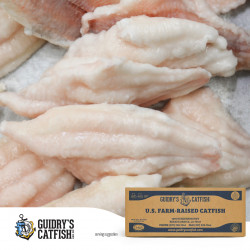 Guidrys Catfish Fillets 5-7oz 15lb
If you're a fan of seafood and want to bring a taste of Louisiana to your dinner table, then you'll love these farm-raised catfish fillets from Guidry's. These fillets are perfect for grilling, frying, or baking and are sure to become a family favorite. Each fillet is 5-7oz and they come in a 15lb package, ensuring that you'll have plenty to go around. Whether you're a seasoned cook or just starting out, these catfish fillets are easy to prepare and are sure to be a hit with everyone at the table. So why wait? Get your hands on some Guidry's farm-raised catfish fillets and bring a little bit of Louisiana to your kitchen today!

Guidry's catfish fillets are a smart and delicious choice for dinner. Our tender white U.S Farm-Raised catfish fillets are loaded with protein and contain Omega-3 fatty acids. This item is frozen.
Unit Size: 15lb IQF 5-7oz (Average 34 pieces)
To make Guidry's catfish, you will need:
Ingredients:
Guidry's catfish filets
2 cups all-purpose flour
2 teaspoons Cajun seasoning
1 teaspoon garlic powder
1 teaspoon onion powder
1 teaspoon paprika
Salt and pepper, to taste
Vegetable oil, for frying
Instructions:
Preheat your deep fryer or a large pot of oil to 350°F.
In a shallow dish, mix together the flour, Cajun seasoning, garlic powder, onion powder, paprika, salt, and pepper.
Dredge the catfish fillets in the flour mixture, making sure to coat both sides evenly.
Carefully place the coated fillets into the hot oil and fry for about 4-5 minutes, or until the fish is golden brown and crispy.
Remove the fillets from the oil and place them on a paper towel-lined plate to drain any excess oil.
Serve the catfish hot, with your choice of dipping sauce and sides. Enjoy!
This item is frozen