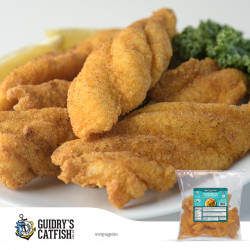 Guidrys Breaded Catfish Strips 2lb
Guidrys Breaded Catfish Strips 2lb
If you're a fan of seafood and love the flavors of the Gulf Coast, you'll definitely want to try Guidry's Breaded Catfish Strips. These catfish fillets are coated in a crispy breading that's full of Cajun spices and flavors. They're so convenient to cook - just toss them in the oven, on the grill, or in a frying pan and you'll have a delicious and satisfying meal in no time. And with 2lbs of catfish in each package, there's plenty to go around for everyone. Whether you're hosting a party, feeding a crowd, or just looking for a tasty meal option, these breaded catfish strips are sure to hit the spot. Order now and bring a taste of Louisiana to your kitchen!
Serving up a hot, delicious, as well as nutritious meal has never been easier with Guidry's pre-breaded catfish strips. Our mouth-watering tenders go straight from your freezer to your fryer or your oven, and cook up light and crispy.

Unit Size: 2lb IQF (Average 9 Pieces)
To make Guidry's catfish, you will need:
Ingredients:
Guidry's catfish strips
2 cups all-purpose flour
2 teaspoons Cajun seasoning
1 teaspoon garlic powder
1 teaspoon onion powder
1 teaspoon paprika
Salt and pepper, to taste
Vegetable oil, for frying
Instructions:
Preheat your deep fryer or a large pot of oil to 350°F.
In a shallow dish, mix together the flour, Cajun seasoning, garlic powder, onion powder, paprika, salt, and pepper.
Dredge the catfish fillets in the flour mixture, making sure to coat both sides evenly.
Carefully place the coated fillets into the hot oil and fry for about 4-5 minutes, or until the fish is golden brown and crispy.
Remove the fillets from the oil and place them on a paper towel-lined plate to drain any excess oil.
Serve the catfish hot, with your choice of dipping sauce and sides. Enjoy!
This product is frozen
Nutrition
Serving Size
4oz
Calories
170 Calories from Fat 60
Total Fat
5g
Saturated Fat
1g
Trans Fat
0g
Cholesterol
45mg
Sodium
800mg
Total Carbohydrate
14g
Dietary Fiber
1g
Sugars
0g
Protein
14g
Calcium
13mg
Iron
1mg
Potassium
199mg